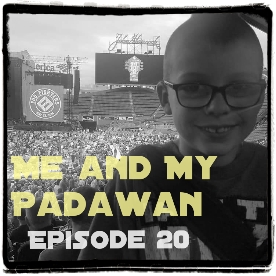 Recorded on Wednesday, July 25th 2018
Inexplicably, Braden and Ryan have managed to produce another 10 episodes, which means its time to dedicate a full episode to topics and questions selected by our loyal listeners!  We talk road trips, droids, lifting Mjolnir, future episode topics, favorite Teen Titans, and even create a Star Wars RPG character!  We also talk about our evening at Fenway with the Foo Fighters and the revival of The Clone Wars!
We hope you enjoy the show!  After giving us a listen, please tell a friend and let us know what you think, either through an iTunes review or via one of the outlets listed below:
On PodBean - https://meandmypadawan.podbean.com
On Twitter - @MeAndMyPadawan (Ryan and Braden) or @Ry_Too_D2 (just Ryan)
On Facebook - Me And My Padawan and The Me and My Padawan Fan Club
On Patreon - http://www.patreon.com/meandmypadawan
Email - meandmypadawan@gmail.com
Google Voice - (585) 376-7478 - that's LUKE-PORGS-8 
MANY THANKS TO OUR PATREON SUPPORTERS FOR HELPING US KEEP THE LIGHTS ON! 
- Angelic Empyress
SOURCES REFERENCED
Star Wars: The Clone Wars Chronological Episode Guide - StarWars.com Article
EPISODE OUTLINE
01:35 - #CloneWarsSaved!  Plus, we plan to re-watch The Clone Wars following the canon chronological order.
04:40 - Over the weekend, we saw the Foo Fighters at Fenway Park in Boston, MA!
08:00 - We answer a Facebook question from Danny about our past and future travels.
11:10 - Uncle Robert, Uncle Ryan, and Phil asked us some philosophical questions.
16:20 - We answer a Twitter Question from @AngelicEmpyress about our favorite types of droids.
18:15 - Phil asked another question, this time about Star Wars RPG character creation.  Kind of.
20:05 - Braden answers a Twitter Question from @PorgBach about Teen Titans GO!
UPCOMING EPISODES
Week of 7/29 - Teen Titans GO!
Week of 8/05 - Lightsaber!  Vs!  Captain America's Shield!
Week of 8/12 - TBD
INTRO MUSIC
Quail and Robot Convo by Podington Bear is licensed under a Attribution-NonCommercial 3.0 International License.  Based on a work at http://soundofpicture.com.
OUTTRO MUSIC
Star Wars overture preformed by moe., found on archive.org's Live Music Archive.
As if you couldn't tell, we are not endorsed or affiliated with Disney, LucasFilm, Lego, Marvel, or any other franchise that we discussed in this episode.  At least not yet?  All sound effects used in this episode are either public domain or the exclusive property of their respective copyright holders.