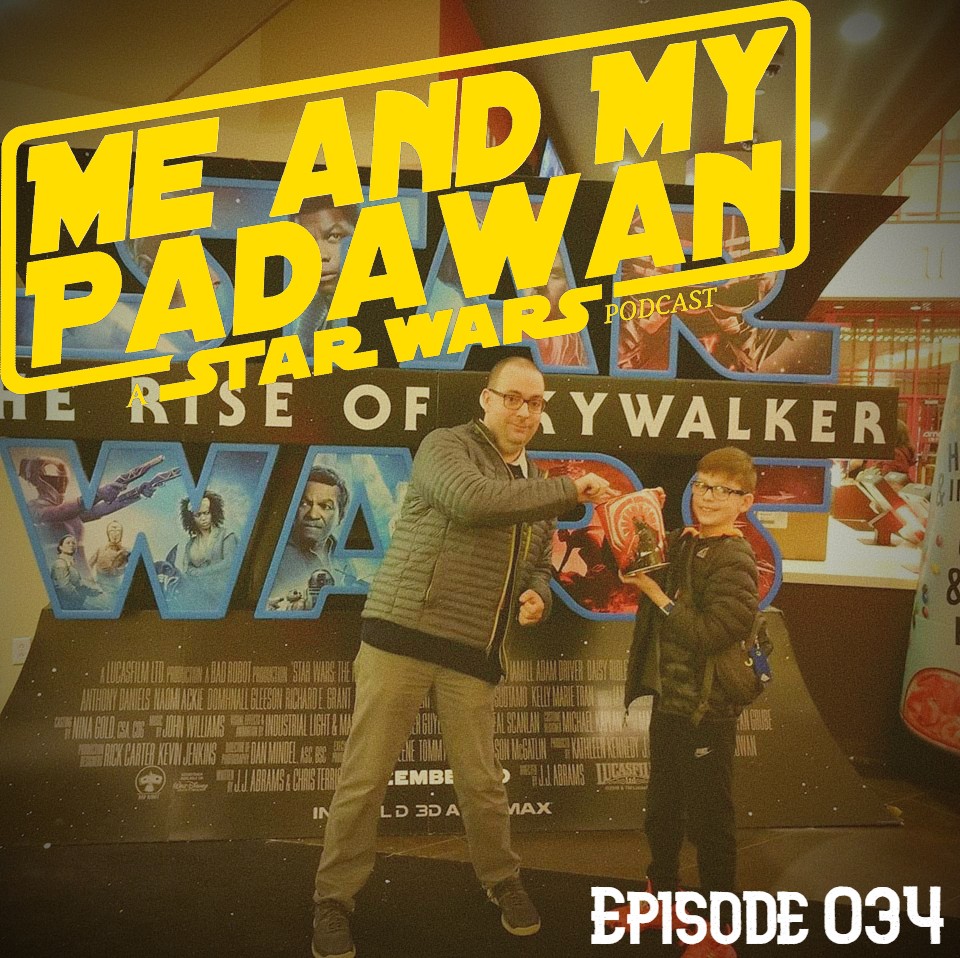 Recorded on Saturday and Sunday, January 4 and 5, 2020
Has it been 6 months already?  Ryan and Braden are finally back on schedule, with a plan to stick around for at least the next two months, and hopefully longer!  In this week's episode they take on the obvious topic of discussion:  The Rise of Skywalker!  We share our general thoughts, and then go over what Ryan feels were the four big story beats in the movie.  Braden also shares some audio of a series of interviews about The Rise of Skywalker that he conducted at a family party on the 4th.
We hope you enjoy the show!  After giving us a listen, please subscribe, tell a friend, and let us know what you think, either through an iTunes review or via one of the outlets listed below:
On PodBean - https://meandmypadawan.podbean.com
On Twitter - @MeAndMyPadawan (Ryan, Braden, and Dillon) or @Ry_Too_D2 (just Ryan)
On Facebook - Me And My Padawan and The Me and My Padawan Fan Club
On Patreon - http://www.patreon.com/meandmypadawan
Email - meandmypadawan@gmail.com
Google Voice - (585) 376-7478 - that's LUKE-PORGS-8 
Check out our shirt shop on TeePublic - https://www.teepublic.com/user/rytood2/
Acoustic Interpretation of "The Imperial March" recorded by Joe Palladino at Studio 108 in West Hartford, CT.  For more information, visit www.studio108music.com.
MANY THANKS TO OUR PATREON SUPPORTERS FOR HELPING US KEEP THE LIGHTS ON!
- Angelic Empyress
EPISODE OUTLINE
1:00 - Where the heck have we been???!?  Doesn't matter.  You know what matters?  That we have a plan to stick around this time!
7:30 - That sound can only be the SPOILER SIREN!  If you haven't seen The Rise of Skywalker yet, that siren is the end of the safe portion of this episode!
8:30  - Braden shares the questions that he asked during his interviews, and we discuss our answers.
13:00 - Audio from the interviews Braden conducted with Carter, Avery, Phil, Auntie Sara, and Uncle Patrick.  Many thanks to them for humoring us.
18:30 - Our discussion begins in earnest, as we break down the four big story points of Episode IX.  
37:30 - Random thoughts on random things about the movie!
UPCOMING EPISODES
Week of Jan 12 - The Mandalorian
Week of Jan 20 - A Biographical Study of Darth Andeddu
Week of Feb 3 - The Force Collector discussion
Week of Feb 17 - TBD
DISCLAIMER
As if you couldn't tell, we are not endorsed or affiliated with Disney, LucasFilm, Lego, Marvel, DC, Dr Who, Nintendo, or any other franchise or corporation that we may have discussed in this episode.  Someday, maybe.  That's the dream!  All sound effects used in this episode are the exclusive property of their respective copyright holders.