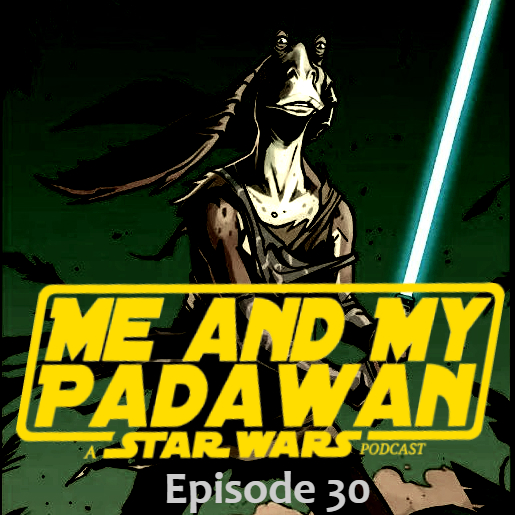 Saturday and Sunday, March 16 and 17, 2019
 The boys took a break from their St Patrick's Day revelry (complete with traditional... umm... Mexican food?  Sure, why not?) to record the much anticipated 30th episode of Me and My Padawan!  The show opens with a preview of some new music that a friend composed, followed by a discussion of Braden's plans for his solo show, "The Masterball Podcast."  We then shift gears to talk about what we will be doing at Celebration, and a review of Marvel's Age of Republic Special Issue.  Dillon joins us for the second half of the show, where we finally talk about some other things, specifically superheroes and the latest Avengers: EndGame trailer.  We then wrap up with some more Celebration talk and a request for one Mr Christopher Sean.
We hope you enjoy the show!  After giving us a listen, please tell a friend and let us know what you think, either through an iTunes review or via one of the outlets listed below:
On PodBean - https://meandmypadawan.podbean.com
On Twitter - @MeAndMyPadawan (Ryan and Braden) or @Ry_Too_D2 (just Ryan)
On Facebook - Me And My Padawan and The Me and My Padawan Fan Club
On Patreon - http://www.patreon.com/meandmypadawan
Email - meandmypadawan@gmail.com
Google Voice - (585) 376-7478 - that's LUKE-PORGS-8 
Check out our shirt shop on TeePublic - https://www.teepublic.com/user/rytood2/
Acoustic Interpretation of "The Imperial March" recorded by Joe Palladino at Studio 108 in West Hartford, CT.  For more information, visit www.studio108music.com.
MANY THANKS TO OUR PATREON SUPPORTERS FOR HELPING US KEEP THE LIGHTS ON!
- Angelic Empyress
- Bart Smets
EPISODE OUTLINE
1:04 - Friend of the show Joe Palladino from Studio 108 in West Hartford, CT composed a stripped down, whimsical interpretation of the Imperial March for us to use on the show.  Next time, we'll be using it as our main theme song!
02:53 - Braden has spent part of the past few weeks figuring out what he is going to do for his solo Pokemon podcast.  Coming soon!
05:22 - Star Wars Celebration is four weeks away, and we share our plans to meet Christopher Sean, Ray Park, and Ahmed Best, to attend a panel, and to hand out some MMP swag!
11:19 - The Tatooine Sons may be organizing a meet-up for family-friendly podcasters (like us and Children of the Force) and their listeners that may take place during Celebration, and we may be attending!
13:00 - An introduction to Marvel's Age of Republic series of comics, with an in-depth (for us) discussion of the Special Issue, featuring Mace Windu in "The Weapon," Asaaj Ventress in "Sisters", and Captain Rex and Jar Jar in "501 Plus One."
26:55 - Dillon joins the show to talk favorite superheroes and to provide some reactions to the newest trailer for Avengers: EndGame.  And to sing Baby Shark.  And to go play loudly in the background while Braden and Ryan continue their discussion.
43:00 - Friendly reminders to listeners to find us at Celebration for a pin with Braden's face on it, and a special question for famous follower Christopher Sean!
UPCOMING EPISODES
Week of 03/24 - The Attack of The Clones
Week of 04/07 - Road Trip Plans
Week of 04/21 - Star Wars Celebration Recap!
Week of 04/28 - Revenge of the Sith 
DISCLAIMER
As if you couldn't tell, we are not endorsed or affiliated with Disney, LucasFilm, Lego, Marvel, DC, Dr Who, Nintendo, or any other franchise or corporation that we may have discussed in this episode.  Someday, maybe.  That's the dream!  All sound effects used in this episode are the exclusive property of their respective copyright holders.