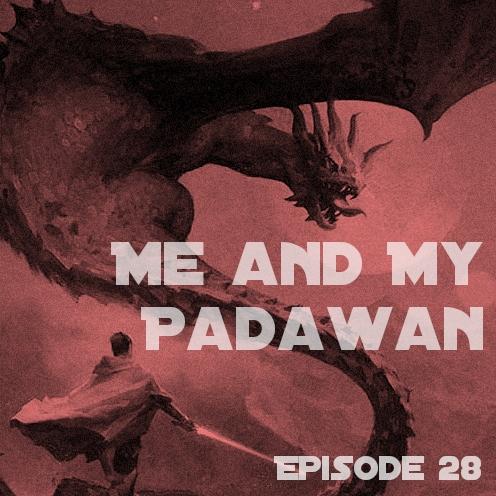 Recorded on Sunday, February 3, 2019
 Is it a mini-sode that ran long?  Is it a regular episode that ran short?  Well, it's both.  Ryan and Braden (and, for brief spurts of time, Dillon) start the show with a recap of the big week of Star Wars publishing news, focusing on the Galaxy's Edge tie-in books announced by Del Ray last week.  They then move on to updating the list of confirmed Celebration guests, and then wrap up the show by answering some listener questions!  
(And just to clarify, yes, Reese was injured during the recording of this podcast, but she is perfectly fine now!)
We hope you enjoy the show!  After giving us a listen, please tell a friend and let us know what you think, either through an iTunes review or via one of the outlets listed below:
On PodBean - https://meandmypadawan.podbean.com
On Twitter - @MeAndMyPadawan (Ryan and Braden) or @Ry_Too_D2 (just Ryan)
On Facebook - Me And My Padawan and The Me and My Padawan Fan Club
On Patreon - http://www.patreon.com/meandmypadawan
Email - meandmypadawan@gmail.com
Google Voice - (585) 376-7478 - that's LUKE-PORGS-8 
Check out our shirt shop on TeePublic - https://www.teepublic.com/user/rytood2/
MANY THANKS TO OUR PATREON SUPPORTERS FOR HELPING US KEEP THE LIGHTS ON! 
- Angelic Empyress
- Bart Smets
EPISODE OUTLINE:
01:30 - An overview of the books announced that will tie-in to the new Galaxy's Edge park opening at Disney properties later this year.
06:50 - The previously-announced, unfortunately-named Alphabet Squadron gets an upgrade!
09:05 - Star Wars Celebration guest updates!
Listener Questions:
13:19 - Uncle Ryan (we think?) asks about droids and lightsabers.
15:27 - Dan from Wisconsin asks about the podcast stage at Celebration
18:32 - Liam from Children of the Force is curious what Braden thought about the Origami Yoda books.
19:56 - Anna from Children of the Force wants to know what we are looking forward to at Celebration.
21:06 - Patreon supporter Bart sent in a question about The Mandalorian.
23:08 - Al from Children of the Force asked a pair of questions that created chaos in the MMP household.
WORKS CITED: 
Step Into Star Wars: Galaxy's Edge With New Books, Comics, and Fables (StarWars.com)
UPCOMING EPISODES
Week of 02/11 - The Phantom Menace recap episode
Week of 02/25 - Attack of the Clones recap episode
DISCLAIMER
As if you couldn't tell, we are not endorsed or affiliated with Disney, LucasFilm, Lego, Marvel, DC, Dr Who, Nintendo, or any other franchise or corporation that we may have discussed in this episode.  Someday, maybe.  That's the dream!  All sound effects used in this episode are the exclusive property of their respective copyright holders.