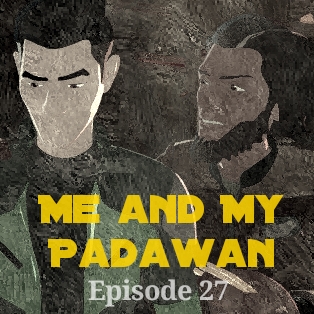 Recorded on Tuesday, January 15, 2019
(Apologies in advance for the Waluigi impression... Sometimes I can't help myself...)
Star Wars Resistance had its mid-season finale just before the holidays, and so Ryan and Braden sit down to discuss how their initial opinions (based on the first-look trailer way back in September) have changed afer 11 episodes of the series, then look ahead to the upcoming second half.  Before that, Ryan shares some new imformation that would seem to support his Anakin vs Vader theory for Episode IX, and highlights the latest round of guest announcements for Star Wars Celebration.  Braden wraps up the show by talking about Super Mario Bros!
We hope you enjoy the show!  After giving us a listen, please tell a friend and let us know what you think, either through an iTunes review or via one of the outlets listed below:
On PodBean - https://meandmypadawan.podbean.com
On Twitter - @MeAndMyPadawan (Ryan and Braden) or @Ry_Too_D2 (just Ryan)
On Facebook - Me And My Padawan and The Me and My Padawan Fan Club
On Patreon - http://www.patreon.com/meandmypadawan
Email - meandmypadawan@gmail.com
Google Voice - (585) 376-7478 - that's LUKE-PORGS-8 
Check out our shirt shop on TeePublic - https://www.teepublic.com/user/rytood2/
MANY THANKS TO OUR PATREON SUPPORTERS FOR HELPING US KEEP THE LIGHTS ON! 
- Angelic Empyress
EPISODE OUTLINE:
01:30 - FOLLOW-UP - A recent episode of the @TatooineSons podcast added a new layer of support to Ryan's totally incorrect (but now slightly more plausible) Anakin vs Vader theory for Episode IX.
06:25 - CELEBRATION UPDATE - A quick run-down of the Star Wars voice actors added to the Celebration guest list.
07:40 - Ryan and Braden look back on the first half-season of Star Wars Resistance, and how their opinions have changed as the season went on.  
26:40 - A look at the Star Wars Resistance mid-season trailer has the boys pretty excited.
33:05 - Braden takes the lead to talk about some of the games in the Super Mario Nintendo franchise. 
WORKS CITED: 
Me and My Padawan - Episode 13 - What the Heck?  (The Legend of Darth Revan)
Momin (Wookieepedia Page)
Me and My Padawan - Episode 23 - We're Baaaaack!  (Resistance, Dog Man, and More!)
Star Wars Resistance Mid-Season Trailer (YouTube)
Super Mario Bros Encyclopedia (Amazon)
UPCOMING EPISODES
Week of 01/27 - The Phantom Menace recap episode
Week of 02/11 - TBD
Week of 02/25 - Attack of the Clones recap episode
DISCLAIMER
As if you couldn't tell, we are not endorsed or affiliated with Disney, LucasFilm, Lego, Marvel, DC, Dr Who, Nintendo, or any other franchise or corporation that we may have discussed in this episode.  Someday, maybe.  That's the dream!  All sound effects used in this episode are the exclusive property of their respective copyright holders.