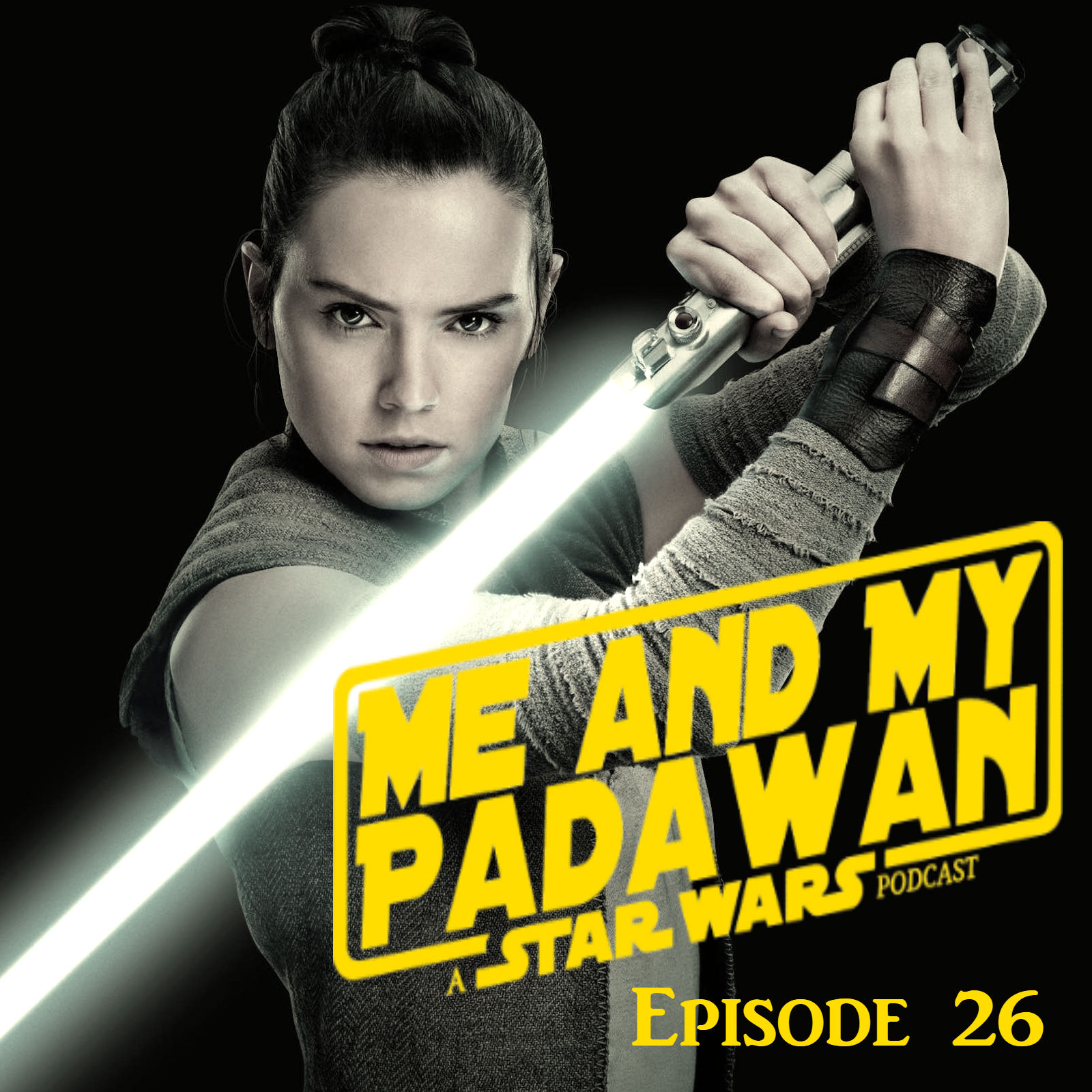 Recorded on Sunday, December 30, 2018
In the final episode of Me and My Padawan for 2018, the boys look back on their favorite events and media from the year, before turning their attention to huge events coming in 2019.  In the world of Star Wars, they discuss the announcements of Thrawn: Treason, and Vader: Dark Visions, before Ryan shares a (totally wrong) theory about Rey that has slowly been evolving since 2016, leading into a (totally wrong) guess about what is going to happen in Episode IX.  They wrap this episode with a chat about their goals for 2019.
We hope you enjoy the show!  After giving us a listen, please tell a friend and let us know what you think, either through an iTunes review or via one of the outlets listed below:
On PodBean - https://meandmypadawan.podbean.com
On Twitter - @MeAndMyPadawan (Ryan and Braden) or @Ry_Too_D2 (just Ryan)
On Facebook - Me And My Padawan and The Me and My Padawan Fan Club
On Patreon - http://www.patreon.com/meandmypadawan
Email - meandmypadawan@gmail.com
Google Voice - (585) 376-7478 - that's LUKE-PORGS-8 
Check out our shirt shop on TeePublic - https://www.teepublic.com/user/rytood2/
MANY THANKS TO OUR PATREON SUPPORTERS FOR HELPING US KEEP THE LIGHTS ON! 
- Angelic Empyress
EPISODE OUTLINE
02:55 - A look back at 2018.
06:30 - Synopsis of Thrawn: Treason, which will add more to Director Krennic's backstory!
08:30 - A description of the cover to the Vader: Dark Visions comic series, aka "Vader On A Horse."
10:10 - Looking ahead to Episode IX, and some of the main guesses running wild on social media regarding what will happen during the movie, including time jumps, redemption stories, and, of course, #Reylo.
15:00 - Ryan shares his totally wrong theory that has slowly been evolving since The Force Awakens regarding Rey, and lays out the evidence supporting his claim that Rey is not a Skywalker, not a Kenobi, and not a nobody, but rather a living Jedi holocron.
34:35 - The MMP boys pay homage to You're Here By Accident by listing all of the movies and shows coming in 2019 for which they are excited.
37:10 - Ryan and Braden discuss their goals for 2019.
UPCOMING EPISODES
Week of 01/13 - TBD
Week of 01/27 - The Phantom Menace recap episode
More episodes of Younglings Unleashed starring Braden and Dillon are Coming Soon!
DISCLAIMER
As if you couldn't tell, we are not endorsed or affiliated with Disney, LucasFilm, Lego, Marvel, DC, or any other franchise or corporation that we discussed in this episode.  At least not yet?  All sound effects used in this episode are either public domain or the exclusive property of their respective copyright holders.