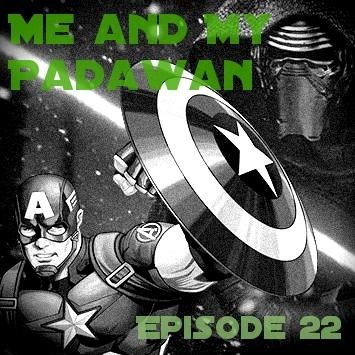 Recorded on Thursday, August 16th, 2018
Braden and Ryan were joined for the full show this week by the current youngest padawan, Dillon!  They discussed some Star Wars news before using (pseudo) science to answer Uncle Ryan's question from the 20th Episode Spectacular, and most likely come to an incorrect conclusion.  Along the way, we get constant reminders about why having a 3 year old as a guest on a full episode is both awesome and horrible.  Towards the end of the episode, Dillon gets a chance to speak from the heart as it concerns Paw Patrol.
We hope you enjoy the show!  After giving us a listen, please tell a friend and let us know what you think, either through an iTunes review or via one of the outlets listed below:
On PodBean - https://meandmypadawan.podbean.com
On Twitter - @MeAndMyPadawan (Ryan and Braden) or @Ry_Too_D2 (just Ryan)
On Facebook - Me And My Padawan and The Me and My Padawan Fan Club
On Patreon - http://www.patreon.com/meandmypadawan
Email - meandmypadawan@gmail.com
Google Voice - (585) 376-7478 - that's LUKE-PORGS-8 
MANY THANKS TO OUR PATREON SUPPORTERS FOR HELPING US KEEP THE LIGHTS ON! 
- Angelic Empyress
SOURCES REFERENCED
Ewan McGregor talks Christopher Robin, possible return as Obi Wan Kenobi (YouTube, via The View)
EPISODE OUTLINE
01:15 - Back To School!
02:00 - Reports of Carrie Fisher footage from The Last Jedi also being used in Episode 9
03:00 - Ewan McGregor on what he knows about an Obi Wan standalone movie.
06:00 - Introduction of the problem:  Would a lightsaber be able to break Captain America's shield?
07;45 - What is the melting point of vibranium?
10:35 - How hot do lightsabers get?
13:45 - And the answer is...?
15:20 - Dillon wanted to talk about Paw Patrol, and, I mean, it's not like we were running long!
UPCOMING EPISODES
Week of 8/12 - The Pseudo-Science of Lightsabers and Vibranium
Week of 8/19 - TBD
INTRO MUSIC
Quail and Robot Convo by Podington Bear is licensed under a Attribution-NonCommercial 3.0 International License.  Based on a work at http://soundofpicture.com.
SEGMENT BUMPER / OUTTRO MUSIC
Captain America preformed by moe. on September 5, 2004, found on archive.org's Live Music Archive.
As if you couldn't tell, we are not endorsed or affiliated with Disney, LucasFilm, Lego, Marvel, DC, or any other franchise or corporation that we discussed in this episode.  At least not yet?  All sound effects used in this episode are either public domain or the exclusive property of their respective copyright holders.