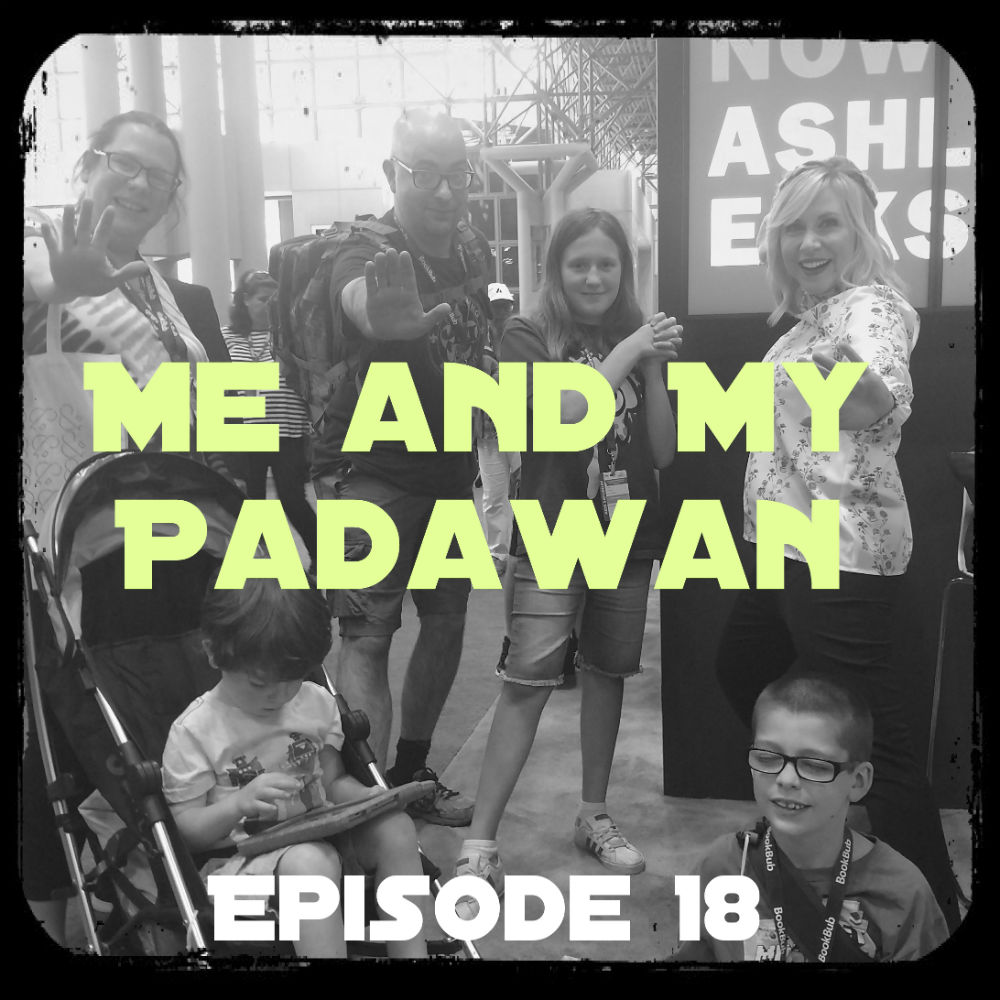 Recorded on Friday and Saturday, June 15 and 16, 2018
We follow-up on one of our shortest episodes with our longest episode yet!  Braden and Ryan are back to recap their last few weeks, including getting to meet Ashley Eckstein!  In their Star Wars segment, they talk about how to treat people whose opinions differ from yours, their official plans for Celebration, and then host a roundtable discussion of favorite Star Wars characters!  The show then gets thrown into the toilet with a discussion of the Captain Underpants series of books.  No, really, there's a lot of potty jokes in those books.
We hope you enjoy the show!  After giving us a listen, please tell a friend and let us know what you think, either through an iTunes review or via one of the outlets listed below:
On PodBean - https://meandmypadawan.podbean.com
On Twitter - @MeAndMyPadawan (Ryan and Braden) or @Ry_Too_D2 (just Ryan)
On Facebook - Me And My Padawan and The Me and My Padawan Fan Club
On Patreon - http://www.patreon.com/meandmypadawan
Email - meandmypadawan@gmail.com
Google Voice - (585) 376-7478 - that's LUKE-PORGS-8 
MANY THANKS TO OUR PATREON SUPPORTERS FOR HELPING US KEEP THE LIGHTS ON! 
- Angelic Empyress
EPISODE OUTLINE
00:55 - Meeting Ashley Eckstein at BookCon in New York City.
03:30 - A Weekend on Cape Cod
04:30 - ABC Countdown to end the school year
06:20 - Ryan and Braden talk about constructive criticism, how to talk to people online, the underlying reasons for the apparant negativity in Star Wars online fandom right now, and what to do if you're being bullied.
19:00 - Our Star Wars Celebration plans are official!  We're going to Chicago!
20:50 - The first Me and My Padawan roundtable discussion of favorite Star Wars characters, featuring our first ever guests, Avery, Carter, and "Uncle" Patrick.
45:00 - Ryan debriefs Braden on their first guest segment.
46:45 - More listener Top 5's
53:50 - Tra-la-LA!  Braden and Ryan attempt to make sense of the world of Dav Pilkey's Captain Underpants.
68:45 - This week, Braden loves his new obsession, Teen Titans Go!
70:00 - Meanwhile, Ryan loves The Toys That Made Us.
SOURCES REFERENCED
It's Your Universe: You Have The Power To Make It Happen by Ashley Eckstein (AMAZON)
The Forge and the Flame by Aaron Lee Yeager (Author Website)
Star Wars Celebration - Official Website
UPCOMING EPISODES
Week of 6/24 - Part 3 of our Darth Omnibus (Darth Malgus) and Teen Titans Go!
Week of 7/08 - TBD
INTRO MUSIC
Quail and Robot Convo by Podington Bear is licensed under a Attribution-NonCommercial 3.0 International License.  Based on a work at http://soundofpicture.com.
OUTTRO MUSIC
Revan's Suite, found on YouTube.
As if you couldn't tell, we are not endorsed or affiliated with Disney, LucasFilm, Lego, Marvel, or any other franchise that we discussed in this episode.  At least not yet?  All sound effects used in this episode are either public domain or the exclusive property of their respective copyright holders.