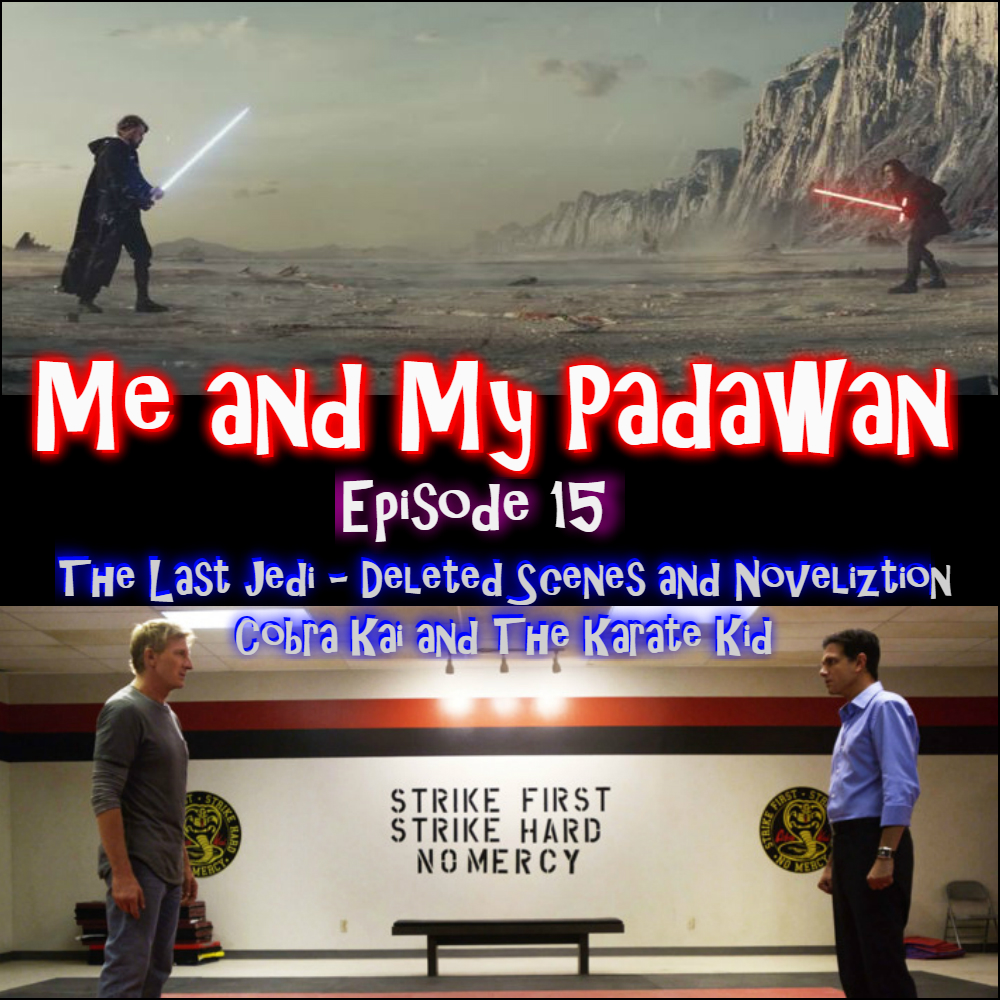 Me and My Padawan
Episode 15 - The Last Jedi Deleted Scenes and Novelization; Cobra Kai and The Karate Kid
Recorded on Wednesday, April 25, 2018 and Saturday, April 28, 2018
We had planned to make this a mini-episode; we ended up with a super-sized episode!  Braden and Ryan jump right into the show this week, covering the big Star Wars news before sharing their last thoughts on The Last Jedi, including discussion of some of the deleted scenes and a few excerpts from Jason Fry's incredible novelization.  In the second half of the show, the pair talk about their experience at the Cobra Kai / Karate Kid Fathom Event, including some (somewhat rough) audio recorded on the drive to and from the theater.  Dillon has some big news to share, and the boys wrap up with their "What Do We Love This Week" segment!
We hope you enjoy the show!  After giving us a listen, please tell a friend and let us know what you think, either through an iTunes review or via one of the outlets listed below:
On PodBean - https://meandmypadawan.podbean.com
On Twitter - @MeAndMyPadawan (Ryan and Braden) or @Ry_Too_D2 (just Ryan)
On Facebook - Me And My Padawan and The Me and My Padawan Fan Club
On Patreon - http://www.patreon.com/meandmypadawan
Email - meandmypadawan@gmail.com
Google Voice - (585) 376-7478 - that's LUKE-PORGS-8 
EPISODE OUTLINE
01:40 - Alden Ehrenreich drops a bomb about future Solo movies?
05:15 - Star Wars Resistance, a new animated series from Dave Filoni, is coming this fall!
08:10 - Chewbacca does have a bad feeling about this!
09:25 - Last Thoughts on The Last Jedi.
15:45 - The Last Jedi Deleted Scenes, highlighting Luke's third lesson and the Mega Destroyer Incursion.
24:00 - The Last Jedi novelization review, with readings of Luke and Rey and Luke's death.
32:00 - Me and My Padawan On the Road!  Cobra Kai and The Karate Kid by Fathom Events.
42:50 - Discussing the relationship between Daniel LoRusso and Mr Miyagi.
46:30 - Johnny Lawrence is still a jerk and Cobra Kai predictions.
50:10 - Dillon shares some big news.
51:30 - Braden loves the Nintendo Labo
53:40 - Ryan loves Lost in Space and The Dangerous Book for Boys
SOURCES REFERENCED
Alden Ehrenreich Will Return As Han Solo - Esquire Magazine
Star Wars Resistance, New Animated Series, Coming This Fall - starwars.com
Solo: A Star Wars Story - "Crew" TV Spot - YouTube
The Last Jedi (Blu-Ray) - Amazon
The Last Jedi: Expanded Edition by Jason Fry - Amazon
The Karate Kid (Blu-Ray) - Amazon
Cobra Kai - YouTube
Nintendo Labo - nintendo.com
Lost in Space - Netflix
The Dangerous Book for Boys - Amazon Prime Video
UPCOMING EPISODES
Week of 5/06 - Lego Star Wars and TBA!
Week of 5/21 - Solo Books, Solo Hype, and TBA!
Week of 5/28 - Solo Reaction Episode
Unless noted below, all clips and music are from various sources on YouTube and assumed to be applicable under US Copyright "fair use" clause.
INTRO MUSIC
Quail and Robot Convo by Podington Bear is licensed under a Attribution-NonCommercial 3.0 International License.  Based on a work at http://soundofpicture.com.