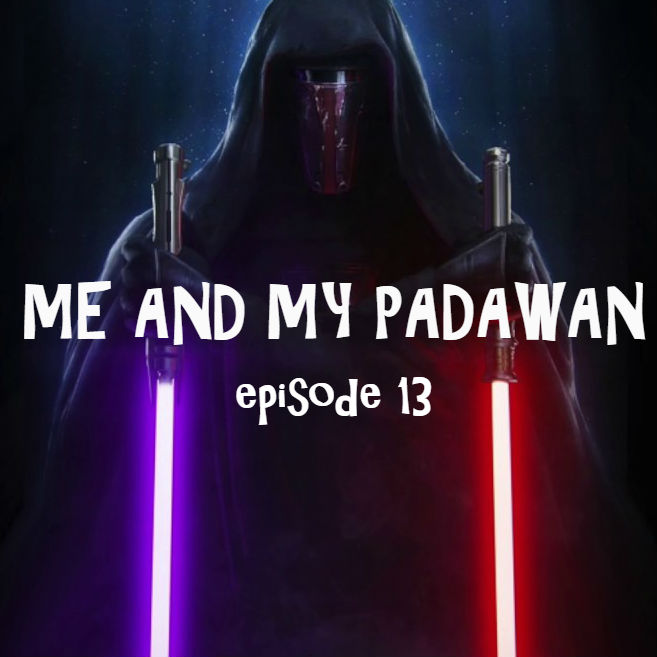 Me and My Padawan
Episode 13 - What the Heck? (or, The Legend of Darth Revan)
Recorded on Friday, March 30, 2018
So... many... Darths!  Plans for lucky episode 13 changed when Ryan's research into the Darths of Legend brought the total number of non-canon Darths up to 20 (and counting), so this week he decides to share with Braden the convoluted tale of Darth Revan and Darth Malak, attempting to draw parallels to events currently considered canon.  They also straighten out their confusion over the Decepticons from last episode before having a random discussion about favorite Decepticons.  Dillon also makes an appearance to teach us about the PJ Masks!
We hope you enjoy the show!  After giving us a listen, please tell a friend and let us know what you think, either through an iTunes review or via one of the outlets listed below:
On PodBean - https://meandmypadawan.podbean.com
On Twitter - @MeAndMyPadawan (Ryan and Braden) or @Ry_Too_D2 (just Ryan)
On Facebook - Me And My Padawan and The Me and My Padawan Fan Club
On Patreon - http://www.patreon.com/meandmypadawan
Email - meandmypadawan@gmail.com
Google Voice - (585) 376-7478 - that's LUKE-PORGS-8 
Episode Timeline
02:25 - Follow-Up
04:20 - Batuu and Thrawn: Alliances
05:55 - Too Many Darths
08:00 - The Legend of Darth Revan and Darth Malak
35:45 - Decepticons, Part 2
45:30 - Moment With Dillon - PJ Masks
46:45 - What Do We Love This Week?
UPCOMING EPISODE TOPICS:
Week of 4/8 - Ready Player One Reactions and Star Wars connections
Week of 4/22 - The Last Jedi Blu Ray and Novelization
INTRO MUSIC:  
Quail and Robot Convo by Podington Bear is licensed under a Attribution-NonCommercial 3.0 International License.  Based on a work at http://soundofpicture.com.
OUTRO MUSIC:
Avenged Sevenfold cover of the Transformers Theme Song - from YouTube