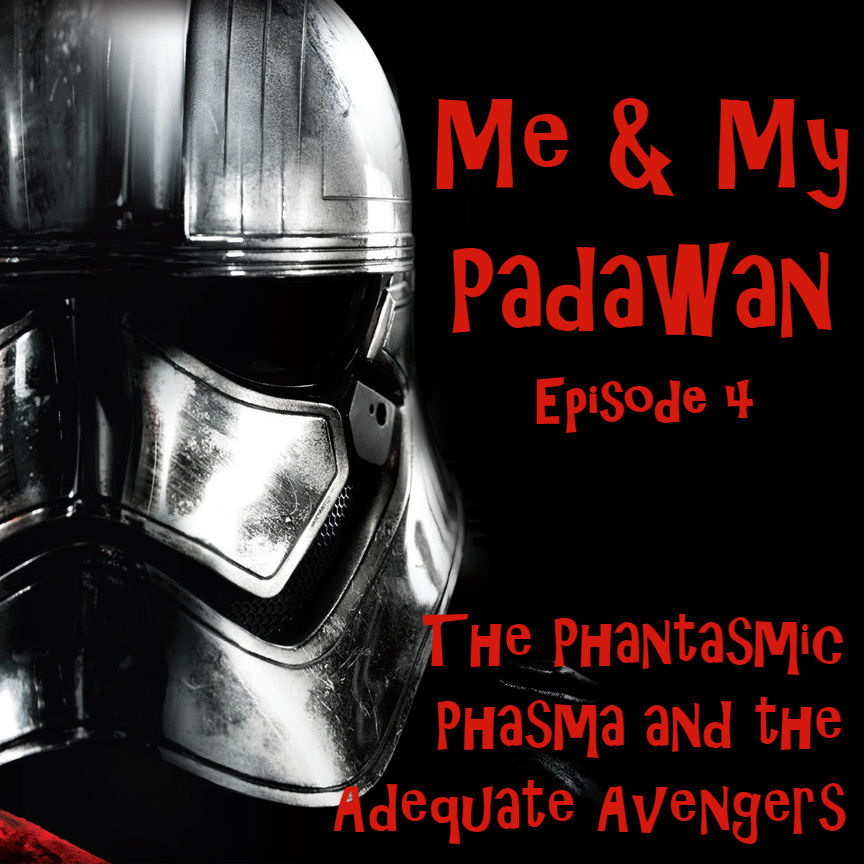 Me and My Padawan
Episode 04 - The Phantasmic Phasma and the Adequate Avengers!
Recorded on Saturday, November 18, 2017
What was once unthinkable has finally become a reality, as Braden and Ryan return for a fourth episode of Me and My Padawan.  This week's episode begins with a discussion about birthday weekend at the MMP home office, which included a day trip to Rhode Island Comic Con and a photo op with General Veers.  Our Star Wars chat featured reactions to some exciting new Star Wars projects in the works, Captain Phasma's origin story, and answers to some (mostly sarcastic) listener mail.  We wrap up by revealing how little we know about Marvel with what might be the worst Avengers draft ever recorded.  But hey, at least we had fun, right?  Right?
Ryan and Braden met Julian Glover (General Veers in Empire Strikes Back; Aragog in Harry Potter and the Chamber of Secrets) during the birthday weekend day-trip to Rhode Island Comic Con.
We hope you enjoy the show!  After giving us a listen, please tell a friend and let us know what you think, either through an iTunes review or via one of the outlets listed below:
On PodBean - https://meandmypadawan.podbean.com
On Twitter - @MeAndMyPadawan (Ryan and Braden) or @Ry_Too_D2 (just Ryan)
On Facebook - Me And My Padawan
Email - meandmypadawan@gmail.com
SOURCES REFERENCED:
Children of the Force Podcast
Rian Johnson to Create All New Star Wars Trilogy - via starwars.com
Phasma, by Delilah Dawson - Amazon link
Captain Phasma graphic novel, by Kelly Thompson and Marco Checchetto - Amazon link
Marvel: Absolutely Everything You Need To Know - Amazon link
The Marvel Encyclopedia by Matt Forbeck - Amazon link
THINGS WE LOVE THIS WEEK:
Star Trek: Discovery on CBS All Access
The Getaway by Jeff Kinney (Diary of a Wimpy Kid #12) - Amazon link
INTRO AND OUTRO MUSIC:  
Quail and Robot Convo by Podington Bear is licensed under a Attribution-NonCommercial 3.0 International License.  Based on a work at http://soundofpicture.com.